OUT-OF-TOWN GROOMSMEN

The Out-of-Town Groomsmen Go-To
We Have You Covered!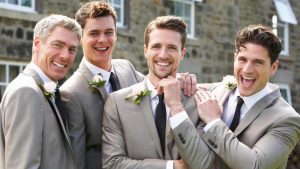 Are some of your groomsmen coming in for the wedding from out-of-town? We belong to a network of 6,000 locations that can provide us with your exact measurements. We also provide on-site tailoring for any adjustments and even offer next-day replacements if you run into issues.
Bring the Other Groomsmen!
The Groom's rental is FREE after 5 adult rentals!
OR
We have great prices on suit purchases!